People often think that if you love Yoga, the next step is to take a 200 hour Yoga teacher training, but it's just not true! You can go deeper without committing to a full 200 hours.
Samdhana designs workshops so that you can deepen your practice and be introduced to philosophy and other aspects covered in training. We deliver our teachings in easy, accessible ways. Join us in studios around the world to better understand your anatomy, how to advance in self-practice, get a taste for the philosophy of Yoga, Chinese Medicine, Thai Yoga Massage, permaculture and more. We are Yoga Alliance Continuing Education Providers (YACEP), and offer CEUs for anyone who is a Yoga Alliance-registered teacher.
Good teachers are lifelong students. Join us to enhance your skill set as both practitioner and teacher.
You don't do Yoga,
Yoga does you.​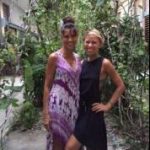 My YogaWorks teacher training was truly one of the best things I have done for myself. Alicia and Oliver were a great team and together they created a most amazing space for learning, listening, healing and growing. I was seeking a way to deepen my practice and give myself a month of spiritual grounding. It did all that and more. My daughter and I were lucky enough to have done this training in beautiful Bali, which in and of itself was a dream as well as a lesson. The curriculum was intense but not overwhelming. Not a day goes by that I don't think of my time there, remember a phrase or insight from Alicia or Oliver, and take a moment to Breathe just a little more mindfully than before this experience. I miss the daily morning meditations, but can call to mind the Peace they brought me at any time, and I do so frequently. What I loved most about this program is that it was truly a Body, Mind, and Spirit experience. Alicia especially was such an inspiring guru. She takes her practice and her students seriously, and the care and presence she brings to the studio and beyond is apparent every day. Oliver too, was a breath of light, air and inspiring presence each day. I will remain forever grateful to Alicia and Oliver for their teaching, and to myself for having the wherewithal to embark on this journey. It's one that will last a lifetime.
Stay up to date with our upcoming retreats, workshops, newsletters and more!